InDesign Guide
This handy guide explains how to set up, design and export a PDF for Newspaper Club in Adobe InDesign. The screenshots were taken in InDesign CS5, but should be applicable across all recent versions. If something doesn't look right on your version, please let us know.
It covers three main sections:
Document Setup
Setting up a document for Newspaper Club in InDesign is pretty quick and painless. You can download our simple InDesign templates which have the paper size set up correctly already, or just follow the guide below:
In File → Document Setup, set the width and height for one page as follows:
Digital and Traditional Standard Tabloid – 289mm wide x 380mm high
Traditional Improved Tabloid – 299mm wide x 370mm high
Mini – 180mm wide x 260mm high
Broadsheet – 380mm wide x 578mm high
Set the bleeds to 0mm unless you're making a Mini, in which case set them to 5mm on the outside, top and bottom.
Remember, we need a multiple of four pages for tabloids, eight for minis and two for broadsheets.
Then, in Layout → Margins and Columns, set the margins to:
Digital Tabloid, Traditional Standard Tabloid and Broadsheet – 15mm all the way round each page
Traditional Improved Tabloid – 13.5mm margin at the left and right, and 7mm at the top and bottom
Mini – as Minis are trimmed newspaper you can bleed images right to the edge and leave out any margin. But it's handy to indicate the safe area using the margin lines, so set them to 10mm on all sides.
Make sure nothing goes into the margin space around each spread (both pages side by side) unless you are designing a Mini which will be trimmed to size.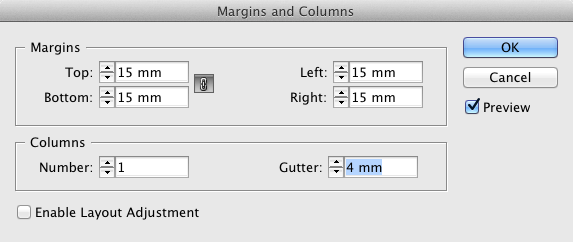 That's the page set up properly.
When designing the pages, just arrange them in the order they'll be read in.
Colour & Swatches
Now let's talk a bit about colours. There are two colours (or swatches) that look like black, and it's important to use the right one.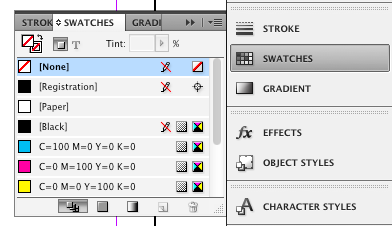 The first is called Registration, and it should never be used. It prints using all four inks (100% cyan, magenta, yellow and black), which means it can put too much ink on the paper and text might appear fuzzy and smeared.
Make sure you always use the swatch called 'Black'. This uses a single black ink (100% K) and will print black just as you expect: smooth and crisp.
If you're adding your own colours to the swatch, make sure that you use Process CMYK colours, not Spot/Pantone colours. We can't print spot colours.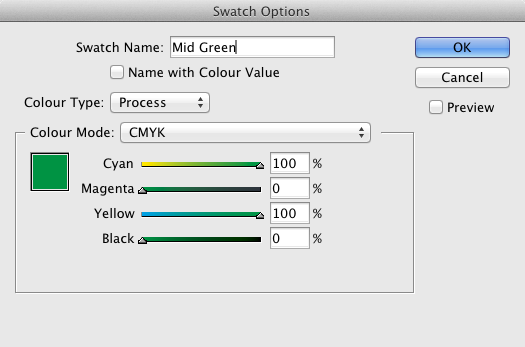 Images
It's important to use the highest quality images you have available in your paper. Image quality is measured in pixels or dots per inch (PPI/DPI – they're the same thing). We recommend your images are at a minimum 150dpi, but newsprint doesn't reproduce much better quality than this, so don't worry about going higher than this.
It's easy to check the resolution of an image on the page. Bring up the Info window from Windows → Info. When you select an image on the page you'll see something like this:

Effective ppi is what you're looking for. That's is the resolution of the image on the page. Here, the resolution is 62dpi, so the image will appear blocky when printed. You can fix this by reducing the size of the image, or finding a higher quality version.
PDF

Export Guide

There are a couple of settings that you need to check before you export a PDF from InDesign for upload to Newspaper Club.

First, make sure you're exporting PDF/X-1a:2001 format file. This is the simplest kind of PDF, and ensures that any advanced PDF features are stripped from your file, making it much less likely to have printing issues.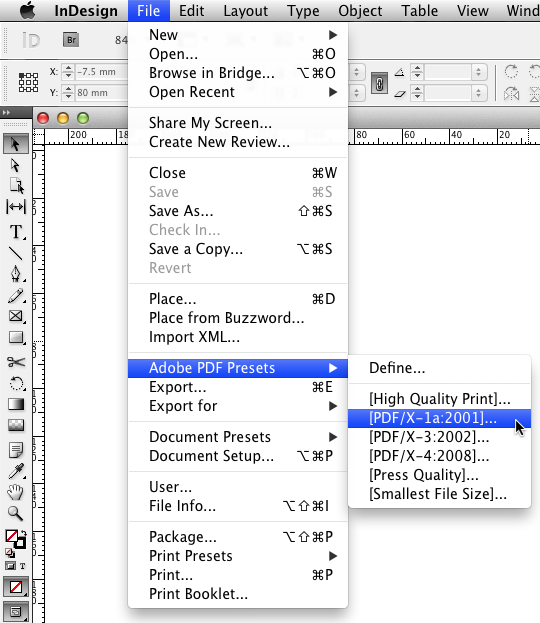 If you've selected this, then most of the following options should be set up correctly, but we'll go through each of them in turn.
General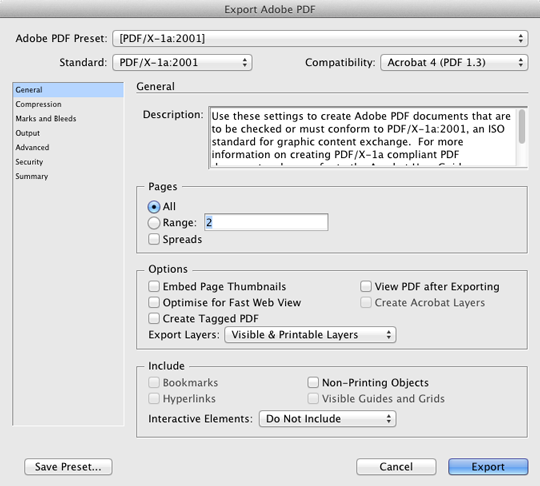 Pages: set this to 'all' unless there are certain pages you don't want to print. Either way, we need a multiple of four pages for your file to be printable. Make sure spreads is unticked.
Options: Untick all of these. Only export visible and printable layers.
Include: Make sure all of these are unticked, and Interactive Elements is set to Do Not Include.
Compression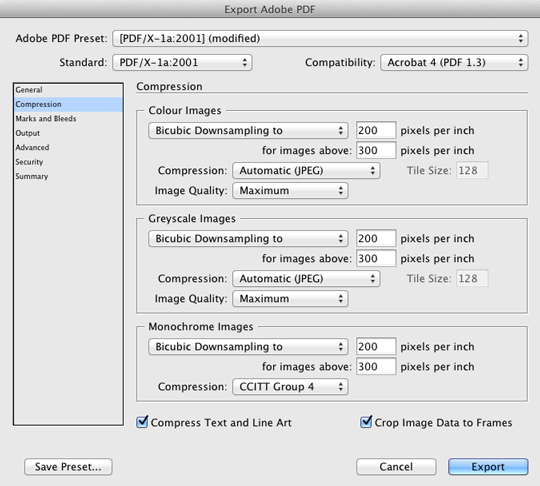 The pixels per inch defaults to 300dpi, but newsprint reproduces up to around 150dpi, so there's no point exporting much higher. Drop each of these to 200dpi and your upload will be quicker and your file will look just as good.
Marks and Bleeds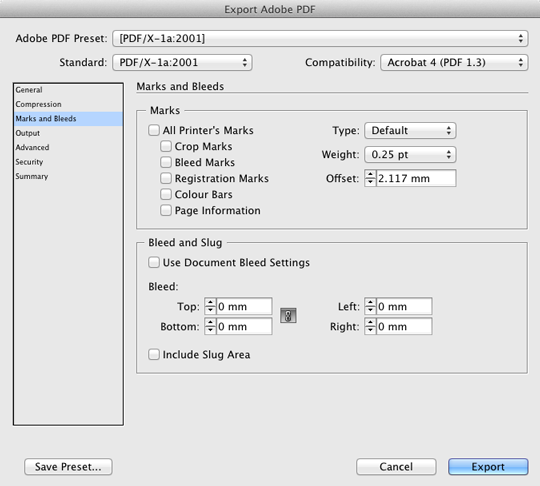 Make sure all of these are unticked unless you are designing a Mini. If you're designing a Mini, tick "Use Document Bleed Settings" to include the bleed area in the PDF.
Output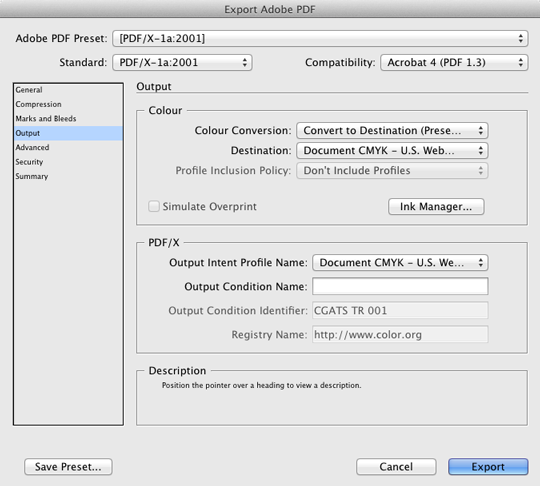 Again, follow the settings above. The Destination and Output Intent Profile Name can be set to U.S. Web Coated (SWOP) v2, which is the default, or if you've added our ISO Newspaper 26v4 colour profile, set it to that, but you don't have to.
Advanced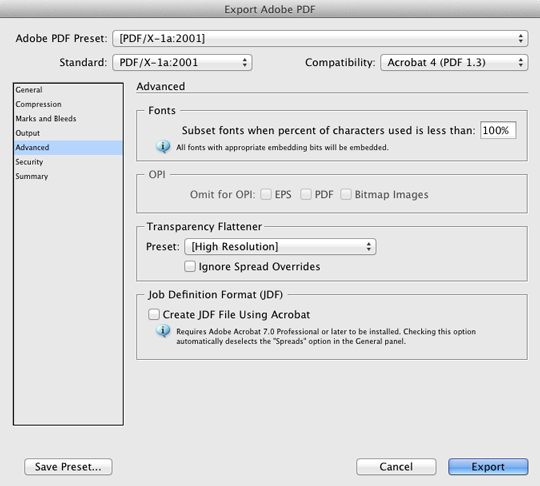 You shouldn't need to change anything here.
Security
Again, you shouldn't need to change anything here.
Summary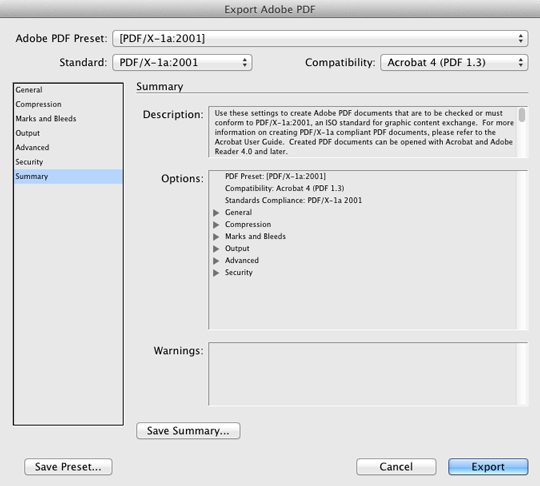 There shouldn't be anything in the warnings box.
Now press export and your file should be ready for upload. You shouldn't see any further dialog boxes. Happy printing!